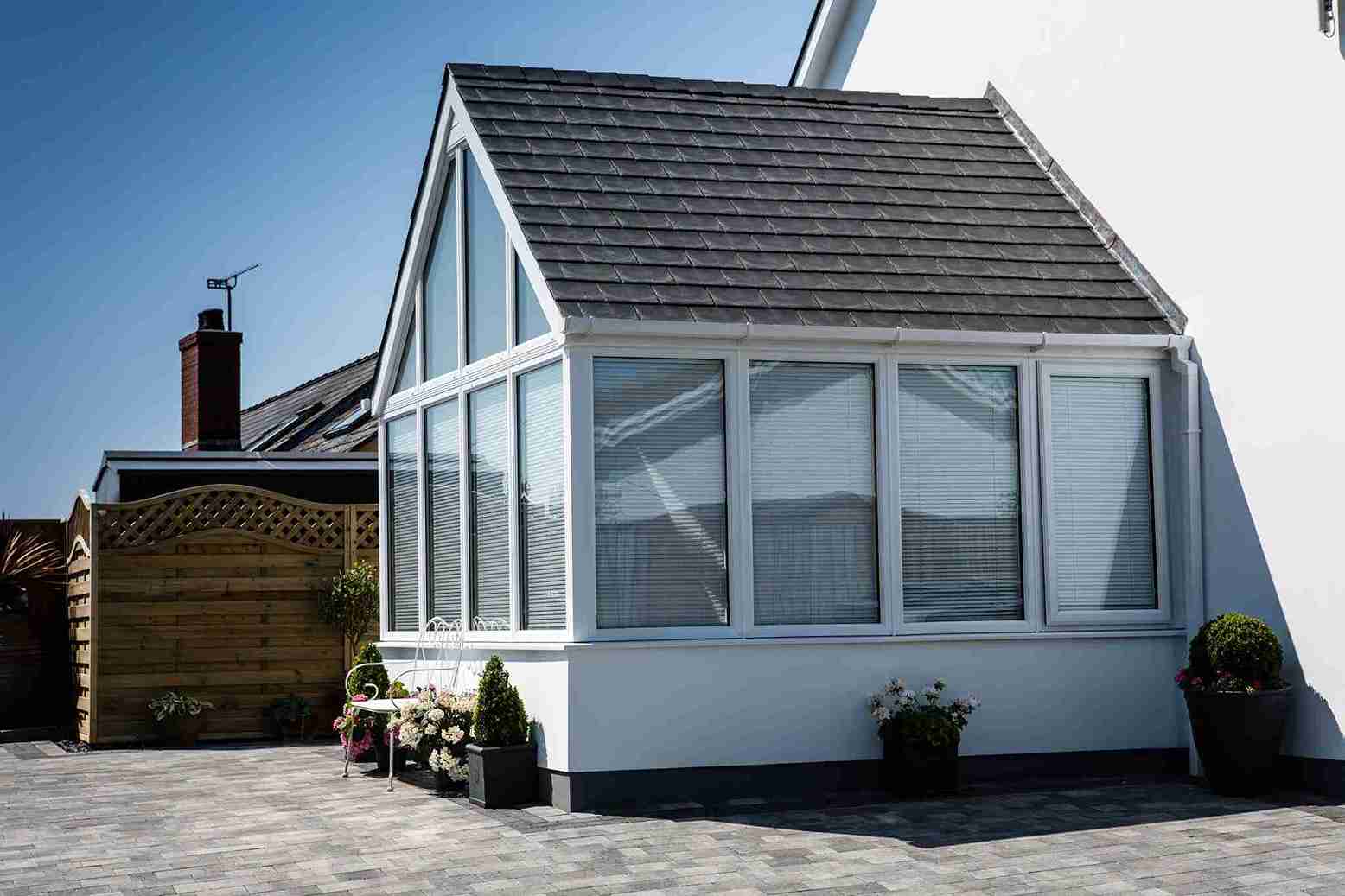 Tiled conservatory roofs offer warmth, insulation and security to any Hampshire home. These robust tiles are easy to install on a brand new conservatory or as a replacement for your old roof. Tiled conservatory roofs are an ideal choice for any home, and you can install them easily.
In particular, a tiled roof from Conservatory Village is a superb choice. Thanks to our partnership with Ultraframe, we're able to offer a market-leading tiled roof: the Ultraroof. Efficient and stylish, the Ultraroof guarantees huge benefits across your home.
While tiles may seem like something to weigh your conservatory down, they'll lift your home up. That's because our tiled roofs are lightweight, weather-proof and thermally efficient. Additionally, the stylish tiles will make your conservatory feel like a real extension of your home.
At Conservatory Village, we have the drive and dedication needed for serving Hampshire. We're experienced installers who'll work around your schedule. Not only that, but we also allow you to fully customise your tiled conservatory roof with colours to make it truly reflect your home.
That way, you can be sure that investing in a new tiled conservatory roof with us will reward your home from day one.

Tiled Conservatory Roofs – Features & Benefits
Compared to other conservatory roofing options, installing a tiled roof offers the best of both worlds. It offers unrivalled insulation while also making your conservatory feel spacious and tied to your home.
There are also huge benefits to our tiles that you may not have thought of:
Lightweight Conservatory Roofs
A tiled conservatory roof is lighter than you think. When you fit a tiled conservatory roof with us, you can be sure that your existing structure won't struggle. The tiles will get to work quickly in saving your home money so that they won't weigh over your head.
With increased lightness, you'll also have a much simpler installation. Instead of a massive team occupying your garden for weeks, we'll be able to install quickly and easily at a time to suit you. You could have a new tiled roof within 6 hours; that's how straightforward installation is.

Strong Lightweight Roofs
Tiles are the strongest conservatory roofing option on the market, and an Ultraframe build will make your Hampshire home powerful. Our roofs incorporate satellite data so we can design them around local weather patterns.
No matter what, our tiled conservatory roofs can withstand any conditions, from high winds to heavy rain. As well as that, they'll stick together for years. You won't need to build any extra supports, meaning that you can also enhance your conservatory with expansive glass doors too!
Energy Efficient Tiled Roofs
At Conservatory Village, we know any investment you make for your home can't just be pretty. That's why our tiled conservatory roofs are pretty energy efficient. Working with your conservatory, they can stabilise your home's heat and reduce your home's energy bills.
Our tiles are fully insulated, won't rot under excess water, and protect your conservatory from getting too hot. With stable heating, you'll rely less and less on your central heating and let your new roof do the work for you.
Additionally, a tiled conservatory roof is also proven to reduce your home's carbon footprint, making it the ideal choice for today. With top-rated U-values as low as 0.17, you can be sure that a Conservatory Village roof will make a real difference.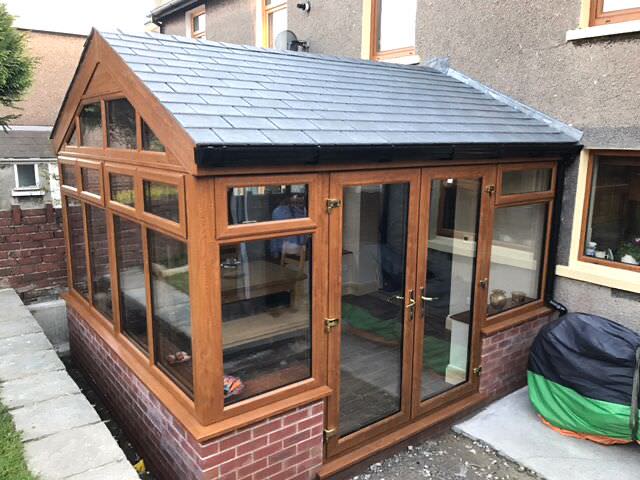 Use Your Conservatory Roof All Year Round
With a tiled conservatory roof, you can make your new extension a part of your Hampshire home every single day. You can also reclaim your existing space, as our tiles ensure your conservatory is usable all year round.
Conservatories should be spaces that extend your home and reflect yourself. Our tiles make that possible with an innovative thermal barrier. With this, you'll have a conservatory that stays warm in winter and cool in summer.
You will be able to create a room that is perfect for either hosting guests, used as a home office or even as a playroom for your children. The possibilities are almost endless. You could also expand your kitchen with a kitchen extension.
With a tiled conservatory roof, you'll also have the freedom to use your space for anything and everything. Tiles tie your conservatory to your home, making them ideal as a cosy home office or party space, or just a place to unwind after a long day.
Tiled Conservatory Roofs Hampshire Prices
If you live in Hampshire, Dorset or the surrounding area, then we at Conservatory Village are waiting to serve you. For tiled conservatory roofs that make a real difference, get in touch with us!
With our online quote builder, you'll get all the choices right at your fingertips. You can customise your new conservatory with a tiled roof in multiple colours and finishes. Then, we'll be able to provide you a quick quote for whatever you dream up!
To speak to us directly, you can call Conservatory Village on 02380 814 555. We're excited to run through each detail with you, and ensure your installation works around your schedule.
We look forward to hearing from you soon!
https://www.conservatory-village.co.uk/wp-content/uploads/2017/06/Leka-Roof-1.jpg
1365
2048
admin
https://www.conservatory-village.co.uk/wp-content/uploads/2015/09/Conservatory-Village-Logo.png
admin
2019-09-26 15:19:35
2019-12-11 12:25:11
Tiled Conservatory Roofs Hampshire