Instant Lean-To Conservatory Prices
Free Online Lean-To Conservatory Prices In Hampshire & Dorset
Use our conservatory quoting engine to get an average cost for your new lean-to conservatory.
Conservatory Village provides lean-to conservatories throughout Hampshire and Dorset. Our online conservatory prices calculator makes it easy for you to cost your lean-to conservatory and get an average conservatory cost.

Completely free to use, our quoting engine gives you a sneak peak on what to expect to pay. Of course this isn't an accurate conservatory price, as there are many factors that determine the overall cost of a conservatory.
Factors such as size, style, glazing, roofing, basework, materials and labour are just some of the things that can affect lean-to conservatory prices.
Contact us for a more accurate price.
What Is A Lean-To Conservatory?
A typical lean-to conservatory is rectangular in shape, with the longer sides running along the back of the house. It has a low-pitched angled roof which slopes downwards – giving the appearance of 'leaning' against a property. Find out more.
The standard lean-to conservatory will have dwarf walls with glazing on all sides, as well as a fully glazed roof. Because the height of a lean-to conservatory is generally lower than other apex roof designs, they are hugely versatile and are recommended for all properties.
They will fit into almost any property and garden, making them hugely versatile and a popular option for terraced houses and bungalow properties.
The lean-to conservatory really is a great conservatory design for smaller sized houses. Dwarf wall lean-to conservatories and low pitched models offer a simple and affordable solution.
A Modern Sun-Room
Lean-to conservatories are also referred to as sunrooms or garden rooms, brining a flavour of the Mediterranean into your home. They trap winter sunlight and convert it into heat through the glass.

Lean-To Conservatory Prices & Costs
The lean-to conservatory is perfect for those on a budget. Generally speaking, lean-to conservatories are the most cost-effective style, due to them being small and simple in structure.
Extra Space At No Extra Cost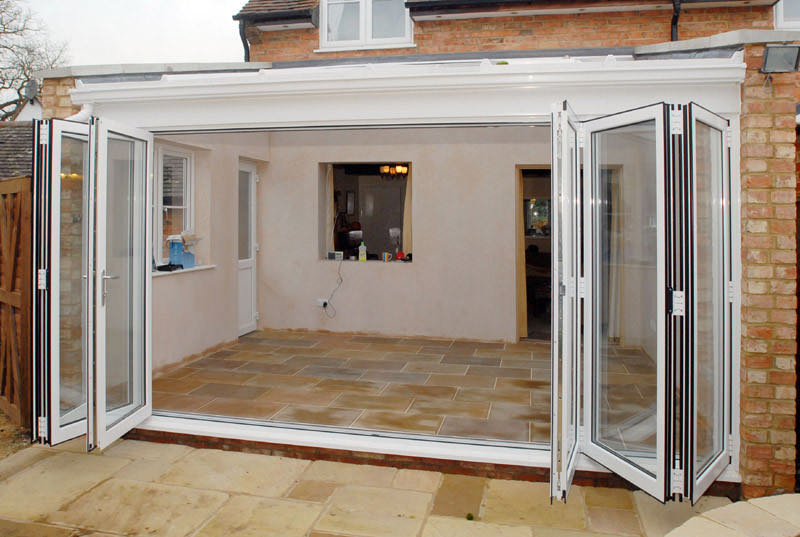 The lean-to conservatory doesn't necessarily lend lesser space compared to a small Victorian or Edwardian conservatory – they just carry different dimensions.
They can be just advantageous in terms of saving space but are more affordable then their conservatory counterparts.
Price Factors
Your lean-to conservatory price will depend on a number of factors including basework, size and style.
Our conservatory prices calculator will give you a rough idea of how much your conservatory will cost but you will need to have an onsite visit for a more accurate cost.
Glass and Polycarbonate-Which Is Cheaper?
With regards to a lean-to conservatory roof, you will have two options: a fully glazed roof with a wide choice of glass types or a polycarbonate roof.
In general, glass allows more light into the room but polycarbonate is much cheaper. However, polycarbonate is also the noisiest option and is known for causing a racket when it rains.
LivinROOF
If you require more space then a lean-to conservatory provides then our other conservatory designs can benefit from a new and improved roofing system from Ultraframe.
Conservatory Village offers the next generation of conservatory roofs which have been created from a state-of-the-art system. The LivinROOF offers great flexibility, versatility and durability by combining solid and glazed roof systems together for the ultimate conservatory roof.
If you are looking to extend your space with a conservatory but are concerned about a polycarbonate or glass roof system not providing enough protection or insulation, then the LivinROOF gives you the best of both.
Thermally efficient, weatherproof and designed to blend seamlessly with you existing property, a LivinROOF from Conservatory Village is a valued investment.
Contact Us
For more information regarding our lean-to conservatories and products, talk to us today. You can use our online enquiry form or you can call us on: 023 8081 4555.